Mission: Provide Science-Backed Resilience Training to Law Enforcement Personnel
Law enforcement is considered a high-stress profession – due to regular exposure to high-risk situations involving violence and potentially life-threatening situations. According to the National Association for Mental Illness: 
"Almost 1 in 4 police officers has thoughts of suicide at some point in their life. And in the smaller departments, the suicide rate of officers is almost four times the national average. The suicide rate for police officers is four times higher than the rate for firefighters. Between 7-19% of police officers have symptoms of posttraumatic stress disorder. In comparison, only 3.5% of the general population experiences PTSD. More police die by suicide than by homicide: the number of police suicides is 2.3 times that of homicides."
Our Approach
The SKY Program is a total well-being and resilience training tailored for law enforcement. Research out of Yale, Harvard and other universities show that SKY builds emotional, social and psychological resilience to occupational stress. SKY's experiential curriculum includes interactive group processes, yoga, SKY® breathing exercises, meditation, positive psychology, emotional intelligence, leadership and service learning. Research shows that SKY significantly increases well-being and significantly reduces anxiety and stress markers.
STRESS-RELIEVING TECHNIQUES
To reduce police officers' stress and anxiety levels
HUMAN VALUES
To build a culture of peace, starting with peaceful individuals
PROFESSIONAL EXCELLENCE
To enhance institutional productivity and effectiveness 
Research shows that police officers can get relief from anxiety and chronic stress using our scientifically backed breath-based meditation techniques. These powerful techniques address the roots of occupational stress including: exposure to traumatic events (in and off duty), work-family conflict, job insecurity, high job demand, low job control, and lack of social support.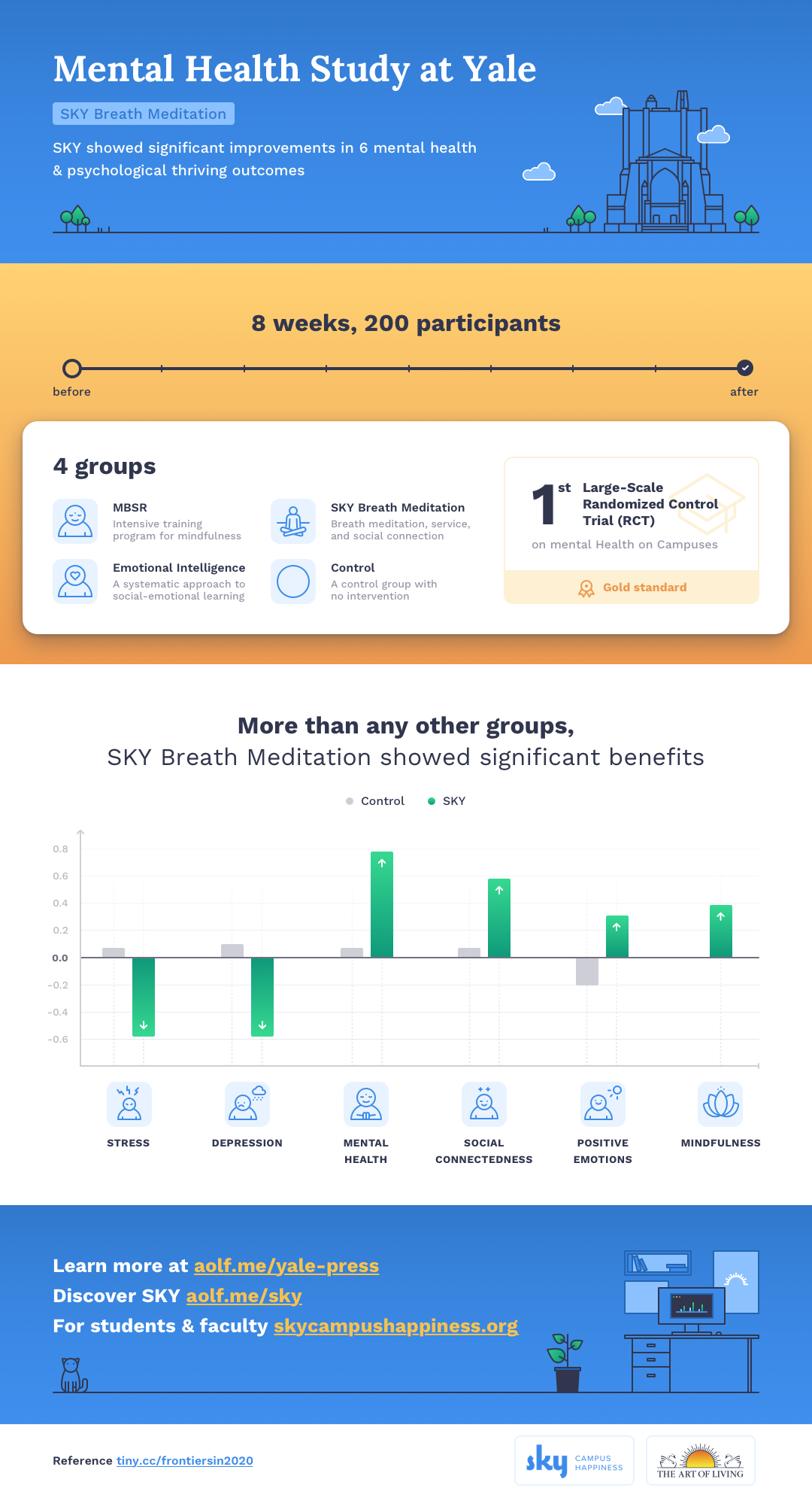 The Science
At the heart of the SKY program is the unique Sudarshan Kriya or (SKY™) practice, a stress-management rhythmic-breathing technique that participants learn to practice on a daily basis. 
A 2020 randomized controlled study run by Yale University scientists evaluated the effect of SKY and two other programs – Mindfulness-Based Stress Reduction and Emotional Intelligence – on well-being as compared to a control group. Mindfulness-Based Stress Reduction showed no improvement compared to the control group, Emotional Intelligence showed one improvement (mindfulness) and SKY had the highest results of all the programs, benefiting stress, depression, mental health, mindfulness, positive emotion and social connectedness. (Seppälä et al., 2020)
A 2020 randomized controlled study run by Harvard University scientists evaluated the effect of SKY versus a cognitive behavioral intervention. SKY demonstrated greater improvements than the cognitive behavioral intervention  in perceived stress, sleep, social connectedness, distress, anxiety, depression,  conscientiousness, self-esteem, and life satisfaction. SKY also lead to improved sleep and stress reactivity. Results were observed immediately after and 3 months after the workshop suggesting long-term benefit. (Goldstein et al., 2020). 
In other studies, SKY Campus Happiness (SKY) led to increased psychological resilience (Goldstein et al., 2016; Kjellgren et al., 2007), decreased stress (Subramanian et al. 2012) and reduced impulsive behavior (Ghahremani et al., 2013). SKY has been shown to improve emotion regulation (Gootjes et al., 2011), decrease stress (Agte et al., 2008; Chandra et al., 2017; Kumar et al., 2013), anxiety and depression (Doria et al. 2015; Hamilton-West et al., 2019; Janakiramaiah et al., 2000; Katzman et al., 2012; Sharma et al. 2017; Toschi-Dias et al. 2017; Vedamurthachar et al., 2006), and reduce PTSD  (Descilo et al., 2009; Seppälä et al., 2014). 
Preliminary results from the SKY Program in Bahia Military Police, Brazil, indicate a  significant improvement in anxiety, heart rate variability (a measure of stress resilience and well-being), disposition (91.7%), sleep quality (83.3%), emotions management (81.8%), mental clarity (81.8%), relationships (75%) and decision-making(72.7%).