IAHV
The International Association for Human Values (IAHV) offers programs to reduce stress and develop leaders so that human values can flourish in people and communities
OUR MISSION
IAHV offers programs to reduce stress and develop leaders so that human values can flourish in people and communities. We foster the daily practice of human values – a sense of connectedness and respect for all people and the natural environment, an attitude of non-violence, and an ethic of social service. Our programs enhance clarity of mind, shift attitudes and behaviors, and develop leaders and communities that are resilient, responsible, and inspired.
India Emergency COVID Relief
Donate Oxygen, Save Lives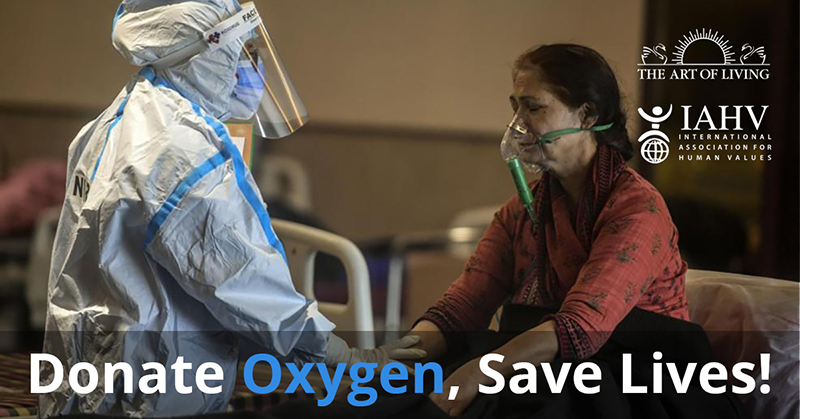 The world is witnessing COVID-19 ravaging lives across India. With gutting images emerging from India's overrun hospitals, reports say that the death toll is greater than what has been reported by any single country since the onset of COVID-19. The country of 1.3 billion is now the global epicenter of the pandemic.
Amidst cries of oxygen, IAHV in partnership with Art of Living in India is driving a mammoth effort of supplying critical equipment to the hospitals in need. Our teams have established a supply chain to import Oxygen Concentrators (portable machines that generate purified O2 from ambient air) from outside India. The team has already placed the order for 2000 Oxygen Concentrators to import into India and expecting delivery this week.
This campaign is a plea to raise funds to procure Oxygen Concentrators in larger quantities to meet the huge demand and help millions impacted. With the supply chain in place, the IAHV team can get these machines imported in 4 to 5 days. An Oxygen Concentrator cost is approximately $800 per unit. IAHV may also use these funds for other critical equipment such as Ventilators, Beds, etc. depending on how the situation evolves further.
The world cannot be set free of Covid-19 till each country, big or small, has overcome this pandemic. We live in an inter-connected world. Hence, a country of 1.3bn people battling against Covid-19 is a global issue.
Every dollar counts. Your generosity will save lives. Please spread the word. The only way to defeat this pandemic is by binding together.
IAHV is a 501(c)3 organization and your contributions are fully tax-deductible in USA. 100% of your contributions will be utilized for the COVID relief work.
GIVE TODAY. SHARE AND SPREAD THE WORD.
Volunteer Driven Service Around the Globe

IAHV Programs

IAHV serves the communities through incredible breadth and depth of its initiatives.

Flagship IAHV Programs